Kombucha 101
May 24th, 2016 by
Kate
Curious and slightly afraid of kombucha? We decided to dive in and the results were pretty exciting. The key is to change the way you think about that gelatinous, stringy, rapidly reproducing mass that floats on top. That mysterious and slightly disgusting entity is what transforms ordinary tea into a refreshingly fruity and slightly fizzy fermented beverage with a multitude of (purported) health benefits. You can read about those here if you're interested. To sum it all up, kombucha contains probiotics, which have been linked to digestive and immune system health. Some people drink it medicinally while many just love the taste.
Bottled kombucha is available commercially, but it's much cheaper to make your own. Plus, many commercial kombucha beverages are pasteurized to stop the fermentation process. This pasteurization process creates a more stable product but also kills the live bacteria. When you make your own, you can control the fermentation process yourself to achieve the flavor and fizz level you like.
What you'll need
A SCOBY (or "symbiotic culture of bacteria and yeast"). You can buy them online or make your own from an existing batch of kombucha.
Glass 1 gallon jar with a wide mouth
Filtered water
Caffeinated tea (3 tablespoons)
1 cup sugar
Temperature gauge (optional)
Instructions
Bring 4 cups of water to boil in a small pot, then remove from heat. Add your tea. We used Nilgiri black tea and our t-sac filters, steeping the tea for about 5 minutes. Remove the tea leaves. Stir in a cup of sugar and add the sweetened tea to your glass container. Add cold, filtered water until the tea is about 4 inches from the top. Make sure the tea is at room temperature, between 68-88 degree F, before adding your SCOBY. Stir the mixture, add your SCOBY, and cover the top with a piece of cotton secured with a rubber band. Place the jar in a dark place with good air flow.
Your kombucha will be ready somewhere between 7-21 days. The longer it sits, the more sugar is converted to vinegar by your busy SCOBY, and the tarter the taste. Test it by carefully running a clean straw along the side and under the SCOBY. Then, with your finger covering the top of the straw, draw some liquid out and taste.
Safety tips
Make sure your hands and all of your brewing equipment is very clean before starting your batch, transferring or bottling your kombucha, and any time you handle your SCOBY (antibacterial soap is not recommended however). Store your fermenting batch away from other food, trash, or plants and within a 68-88 degree F range. Be on the lookout for anything that looks like mold. Strings and blobs are good (gross, I know) and fuzz is very bad. When in doubt, throw it out.
When your batch is done
With clean hands, remove your SCOBY, which will have a "baby" SCOBY or two growing on it. Separate them and place each in a jar, covering them with some liquid. Store them in the fridge for future use. Pour your kombucha into bottles with tight fitting lids, adding some fruit juice for flavor if you like. You can leave the bottles at room temperature for a day or two for extra fizziness (they will continue to ferment slightly), or stick them in the fridge. The flavor will continue to change over time, so if you like the taste, consume within a few days of bottling.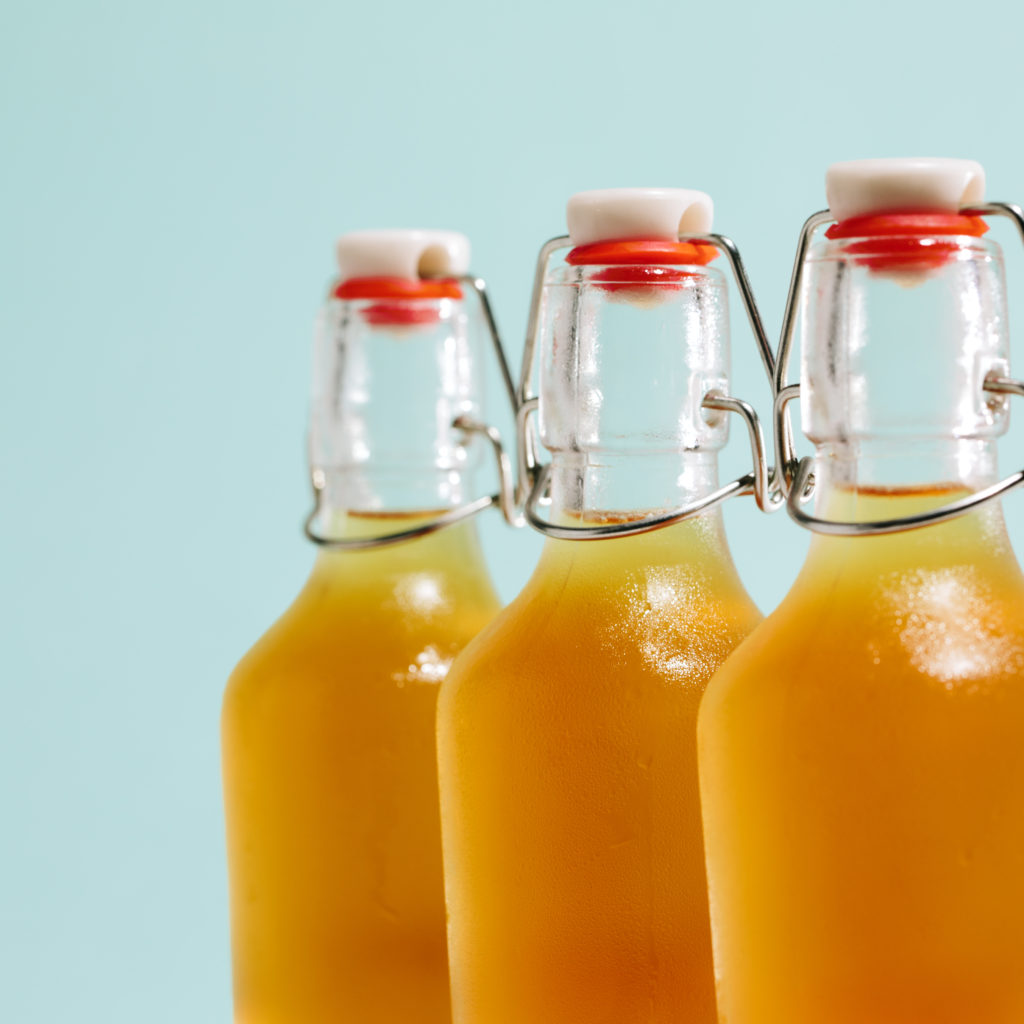 Tags: black tea, fermentation, fermented tea, how to make kombucha, kombucha, kombucha tea, scoby, sweet tea